Friday, June 19, 2009
Reception at 5:30 p.m., program at 6:00.
Join us at the Library Company on Friday, June 19th for our Juneteenth Freedom Forum, featuring three area scholars discussing the African American struggle for freedom in the era of the Civil War and beyond.
Dr. Robert Francis Engs
, Professor of History (retired) University of Pennsylvania, "Who Freed the Slaves? The black Revolutionary Struggle for Freedom."
Dr. Elizabeth Varon
, Professor of History and Associate Director, Center for the Humanities, Temple University, "From Appomattox to Juneteenth: Lee's Defeat and the End of Slavery."
Dr. Randall M. Miller,
Professor of History, St. Joseph's University, "Juneteenth, Before and After: African American Freedom Celebrations, Historical Memory, and Contemporary Activism."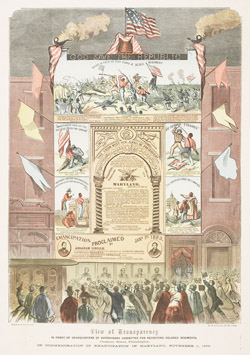 This event is the Library Company's third annual Juneteenth commemoration, sponsored by our
Program in African American History
with support from The Albert M. Greenfield Foundation.
The event is open to the public free of charge, but seating is limited and advance registration is requested. To register, phone 215-546-3181, or e-mail
lpropst@librarycompany.org
.
Above image: View of Transparency in Front of Headquarters of Supervisory Committee for Recruiting Colored Regiments . . . in Commemoration of Emancipation in Maryland, November 1, 1864. Wood engraving (Philadelphia: Ringwalt and Brown, 1864).